TradeIndia takes an emotional route this Father's Day to showcase the power of digital transformation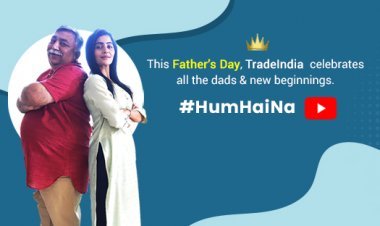 New Delhi, 16th June 2022: TradeIndia–India's one of the largest B2B marketplaces– today launchedits Father's Day campaign #HumHaiNa. Father's Day is a time when our thoughts turn to the unique relationship we enjoyed with our fathers as young children. It's now the time to care for them andconnect them back with their long-lost dreams.
The campaign tugs at the audience's heartstrings and beautifully shows the love a daughter has for her father. It further emphasizes on the ability of today's youth to leverage digital transformation to spark growth. The digital film #HumHaiNahas been amplified on Instagram, Facebook and Linkedin.
"This is not just a topical campaign but represents what our brand stands for – trust and integrity, therefore the tagline '#HumHaiNa'. It depicts a beautiful and emotional bond between a father and daughter, where the daughter endeavours to help her father be back with his most prized possession – his business. At the core, the idea is based on millennials and their trust in deploying digital technology to grow businesses. We want to urge everyone to spare some time to thank their fathers for their unconditional love and be with them when theyneed them the most," statedMr. SandipChhettri, CEO, TradeIndia.
The campaign highlights the emotional bond between Shreya and her father, who is suffering from Alzheimer's and doesn't remember anything. As the only child in the family, Shreya takes care of her ailing father. Frequently, she sees her father always lost in his thoughts about his past success as the businessman and the business he owned years ago.
One day, as Shreya was reminiscing about her childhood days, she stumbled on a photo of her father posing as a proud business owner. Old memories came rushing back. Soon, Shreya was encouraged to revive her father's business and show him that his most cherished dream was still operational. The brand has chosen great actors like Naresh Gosain, Yukti Kapoor and ShibeshDebnath to successfully deliver the message that the trust in digital transformation shown by the youth can help in expediting positive business outcomes in India's SME and MSME segments.
Mr.AnoopDass, CEO of Creative Mud said, "With this heartfelt Father's Day campaign #HumHaiNa, we are delighted to be part of TradeIndia's mission to enable 63 million SMEs to become digitally capable. The storyline not only shows the emotional bond between a father and daughter but also emphasizes how the youth can positively influence the lives of their parents."
Through the #HumHaiNa campaign, the brand urges the nation's youth to endeavourto fulfil the dreams of fathers and parents who have sacrificed throughout their lives for the good of their families.